You Lose. Good Day, Sir. (jam version)
You start with NOTHING.
Plus your Scrabble-solving mind.
And an angry armadillo.
How many words can you make? Will any of them be the right ones?
It is highly recommended that you play in full screen.

For more hints and easier gameplay, play the bugfix version, available now!
All writing, graphics, music, and sound effects created in 72 hours for Ludum Dare 45: Start With Nothing.

Comments
Log in with itch.io to leave a comment.
I thought my score of 530 was impressive until I looked at the comments...
Super fun game!

I haven't seen such brilliant line since the dialogue before the final battle in Guacamelee 2.
Great game. It really made me feel. Feel joy, feel guilt...
It was a simple, yet significant twist how long the adventure actually was.
Great Game!
This is really cool! I love the Scrabble mechanics and the clever way you give hints so the player doesn't get stumped. I also really like that you use these mechanics to tell a story. I have no idea how all this was done in 72 hours, so major props! 😀
.
.

[SPOILER]
And of course I love the happy ending!

The last word was a major logical leap for me, though, and since there were no more speech bubbles, I was actually about to post that the game had glitched. Until of course I gave up and looked up the answer on scrabble-solver 😝

Great game! It sort of reminds me of You Find Yourself In A Room, but with a much happier ending. I'm honestly surprised you were able to write so many unique responses, I even played the game a second time around to get as many as I could... but I may have gone slightly overboard.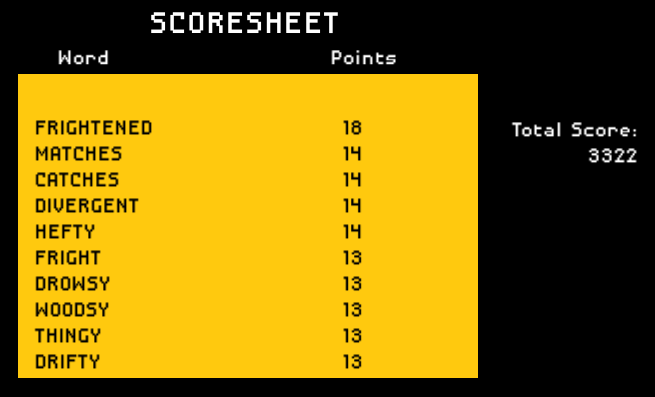 Nice! I thought I was going overboard in writing so many unique responses when it seemed unlikely anyone would ever read them! Good to know there's an audience out there.

I'll have to check out You Find Yourself In A Room. Thanks for the recommendation!
- Carr

Thank you for putting all of those responses in. They really added to the charm of the game. The game was awesome. My kids and I crammed around the computer playing it, and laughing. :)
Very fun idea! It's amazing how much some personality can add to a word game...
There are a few replies with buggy control codes btw: https://imgur.com/a/wJcRSip


I Really enjoyed that. A concept like that could go very far. Honestly, in this game, it has already. And done in 72 hours no less. I'm quite impressed.